CLOUD
---
2021 • FURNITURE • ART

---
CLOUD is a set of side tables design based on material exploration, which reveals the aesthetics of the growth of a tree. Inspired by the traditional way of making wood shingles, using an axe to split the wood, a natural surface appears according to the wood fibers' twisting growth. Following up with a hand brushing technique that creates a deep tactile texture, the outcome shows how vital the material is nonetheless, the beauty hides in nature.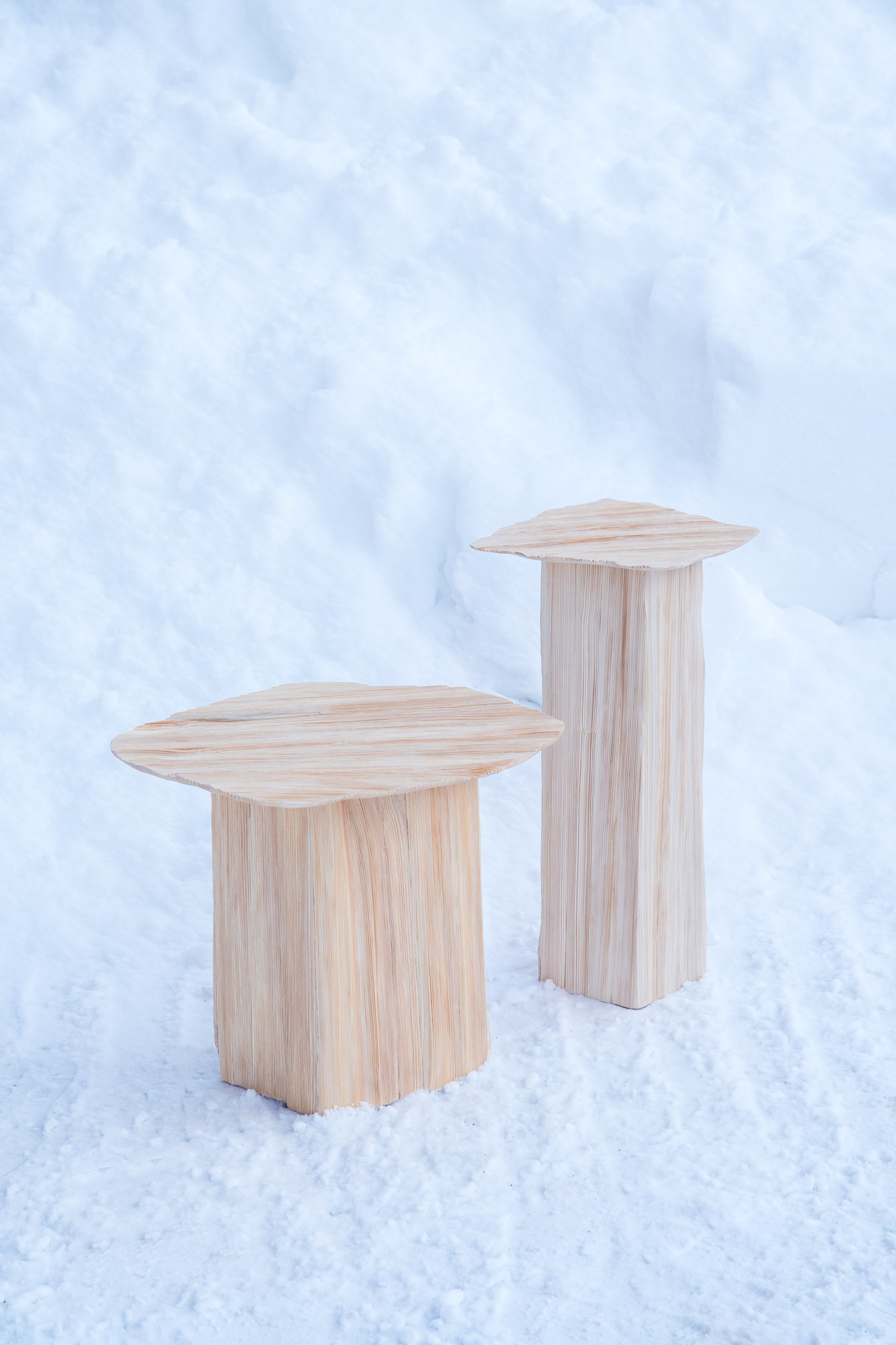 BEAM
---
2020 • BENCH
---


BEAM is a bench that embraces the philosophy of imperfection and re-evaluates material by revealing the hidden beauty using traditional techniques. Cracks on pine beams occur randomly and are usually treated as an unpleasant problem. In contrast, I appreciate the natural phenomenon that shows confrontation against nature. After burning and brushing, charcoal gradient remains on the tactile wooden surface. Vivid color inks are applied to emphasize the implicit mystery and energy hidden in nature.



W1500mm x D250mm x H450mm
Pine and steel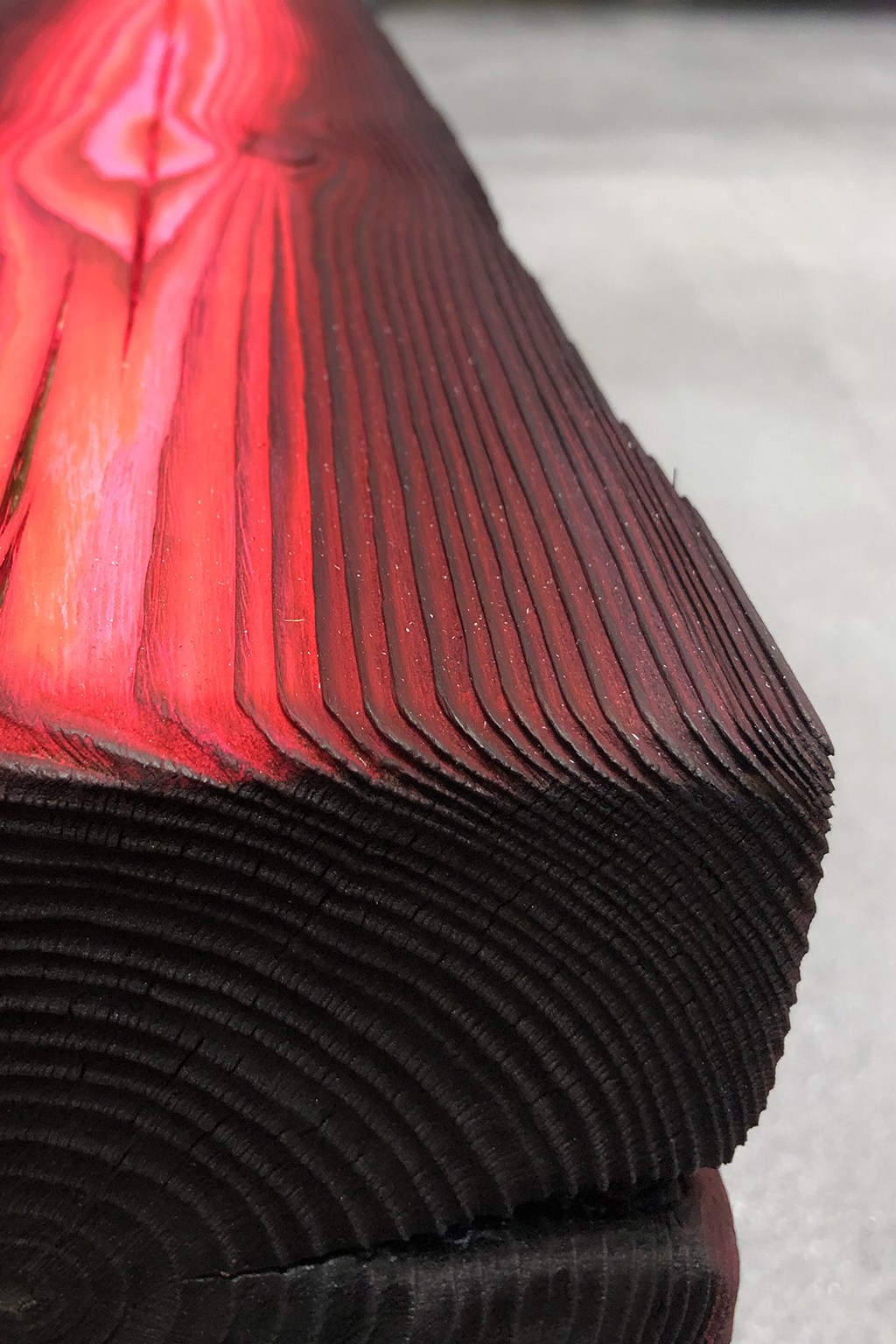 PAPER-CUT
---
2019 • OUTDOOR FURNITURE
---

The furniture was created during the summer 5 days workshop held by EKA Summer Academy at Viljandi in Estonia. I was attracted by the beauty of the raw-cut solid wood slabs placing inside the wood storage room. The outline of the slabs were abstract and looks like paper-cut by kids. The shape are artistic and energetic. The design was made by arranging different slabs together and create joineries for slotting in the wood slabs as the bench back.


W1800mm x D500mm x H1800mm
Maple and Ash Wood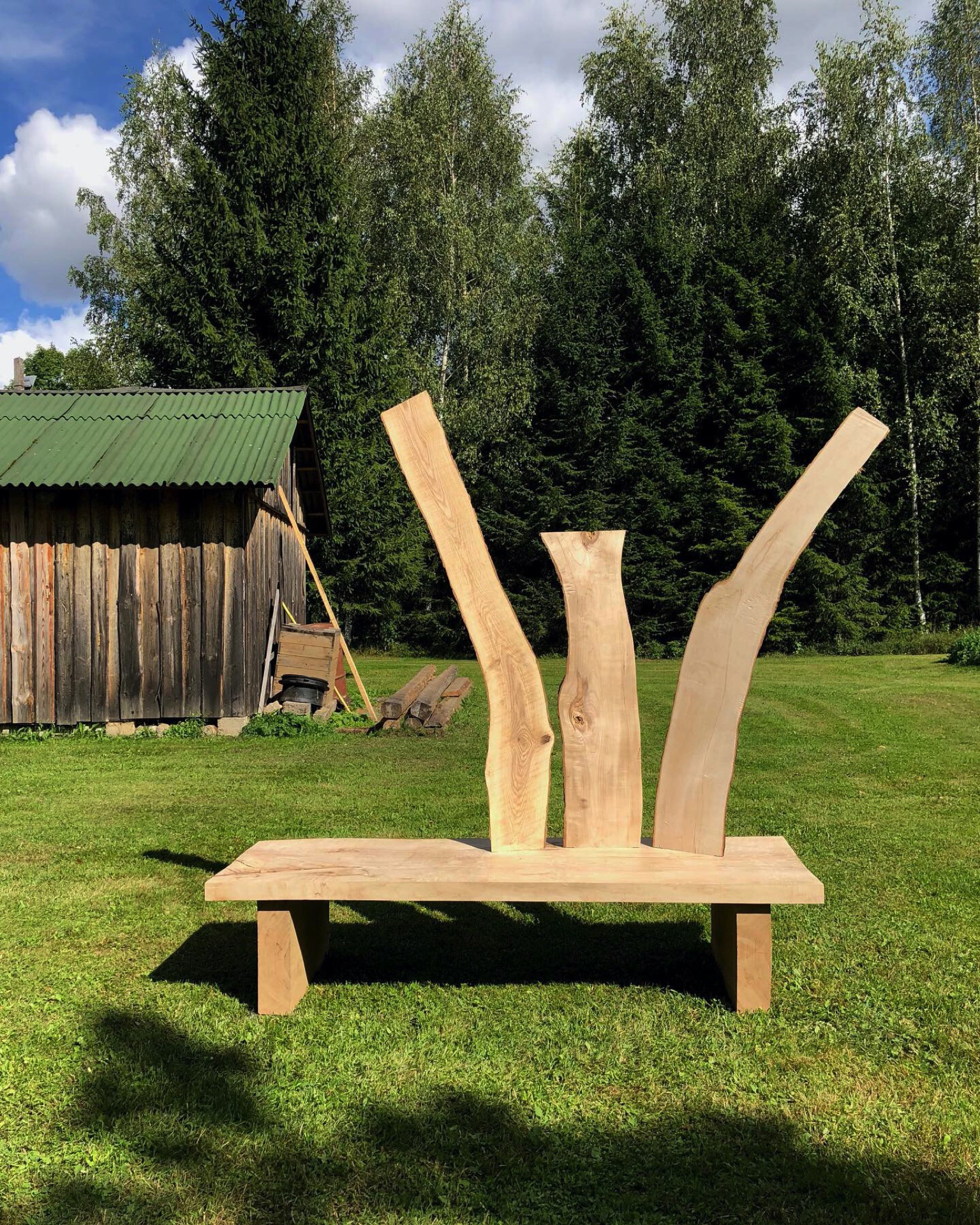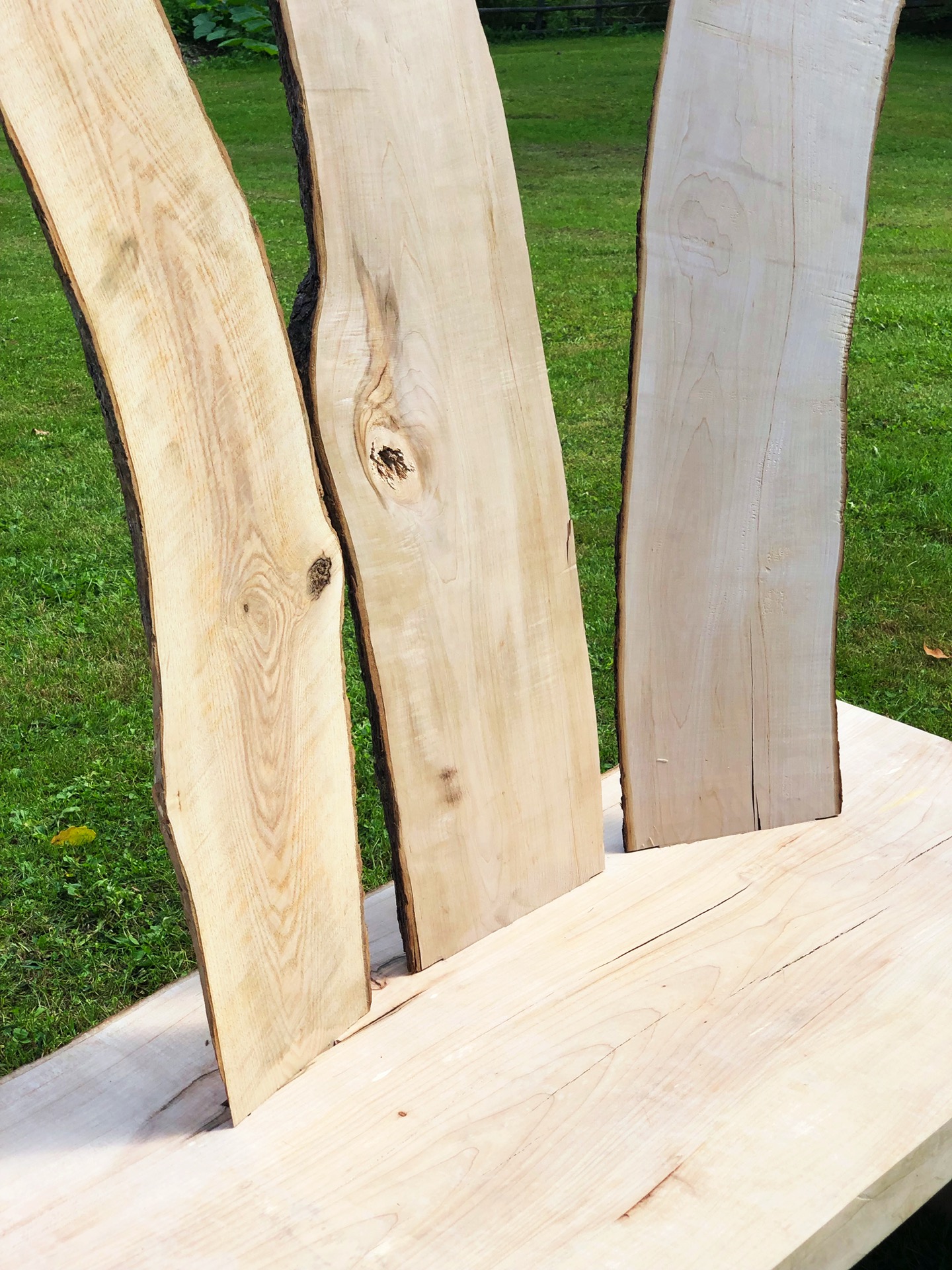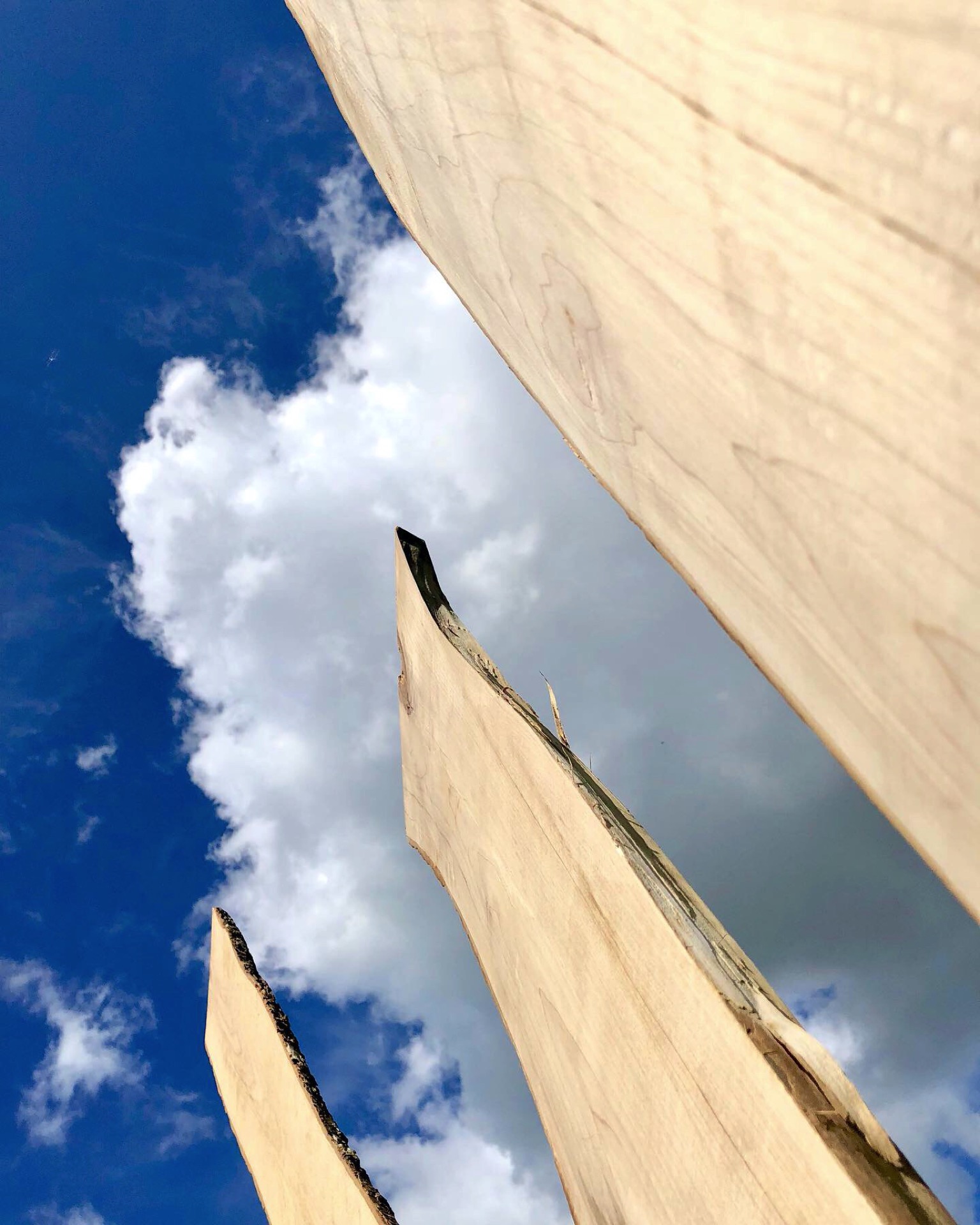 FLOW
---
2019 • FURNITURE
---

FLOW is a wooden lounge chair constructed with birch plywood and solid wood. The hollow frame structure celebrates the tension and strength created by the plywood. The geometric wooden base is designed in a distinct visual language - "when curvature meets straight lines". The void structure helps to maintain a sense of visual balance thus creating a harmonious result.


W550mm x L760mm x H600mm
Birch Wood and Plywood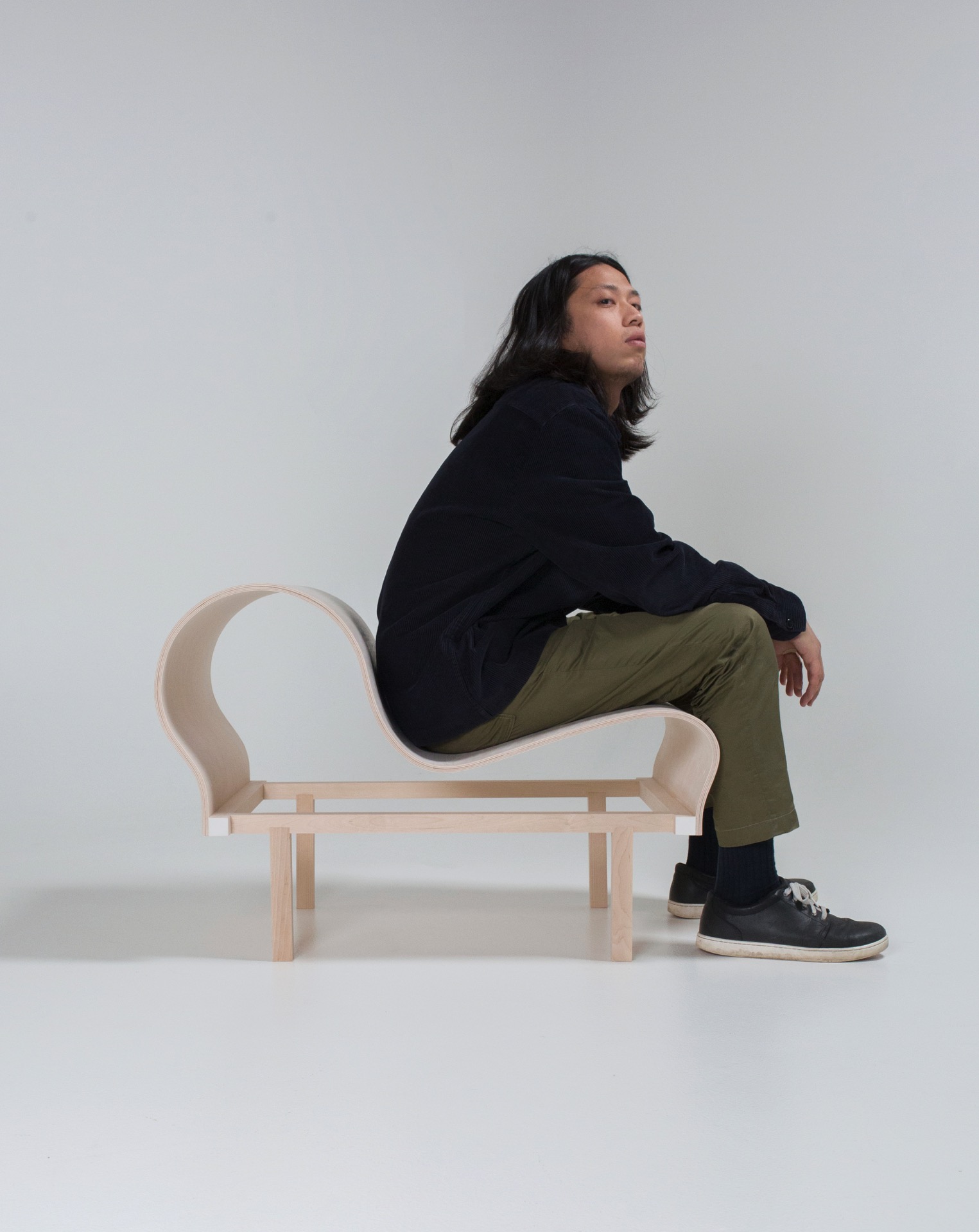 BACK TO BACK
---
2019 • FURNITURE • CONCEPT
---

"Back to Back " is a furniture design which targets for two persons having comfortable conversations in public space. By multiplying the furniture, it can work as a space divider in an open space.

The design achieves a "tête-à-tête" meeting simply by connecting two chairs' backrest into one with a smooth curve which gives a sense of bonding the users. Nevertheless, the high backrest also creates a semi-open space which provides both open view or private space of two. The curve creates a perfect 120º angle to avoid embarrassing eye contact but still available to talk "face to face" by changing their body gestures.

Besides, the finishing of the single piece of the wooden backrest are designed with special color dying treatment, looks like a big natural and artistic picture from far away. When passerby sees people having a meeting there, they will get a sense of not going nearby to interrupt.



W2100mm x D1200mm x H1350mm
Steel and Finnish Birch Aircraft Plywood
It works as a space divider in an open spac
e